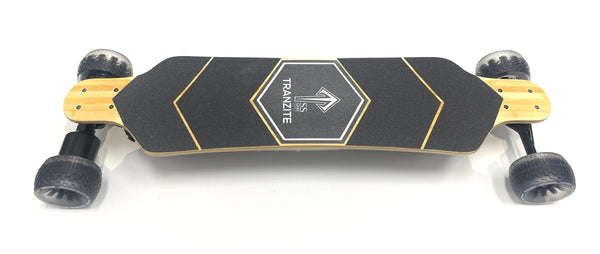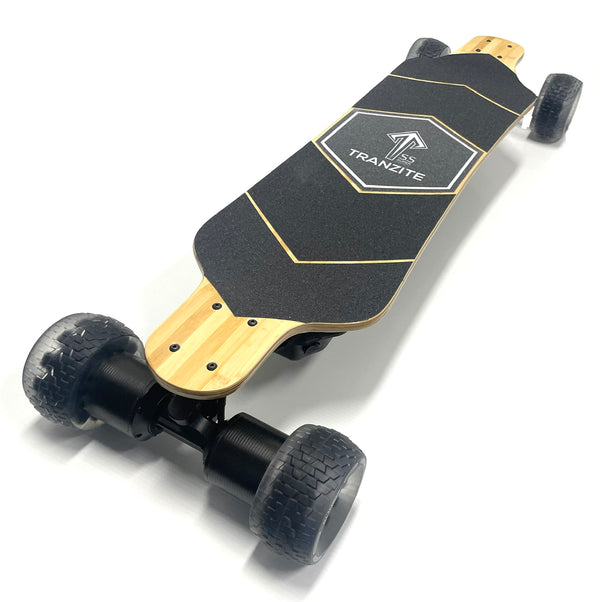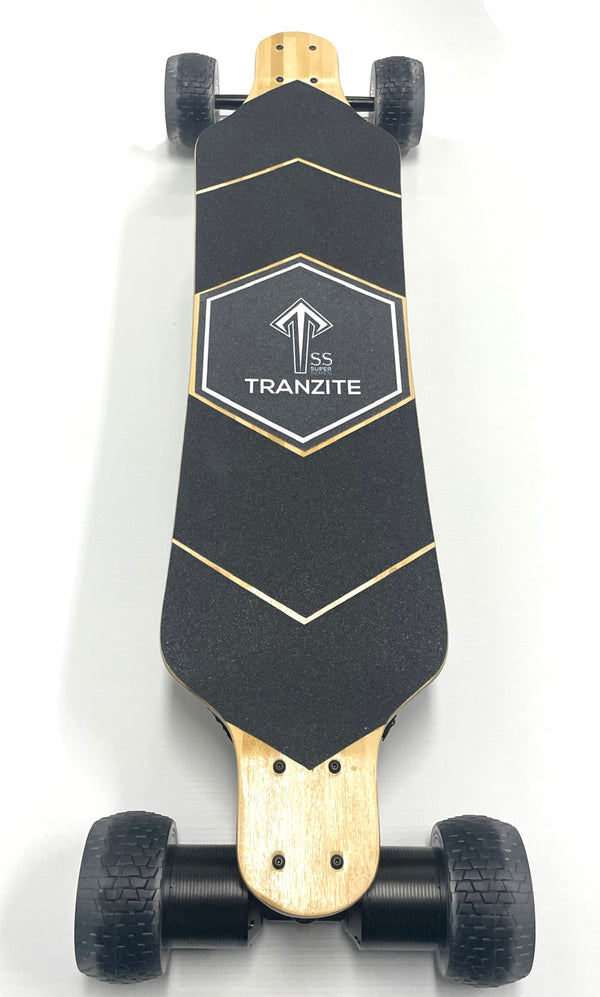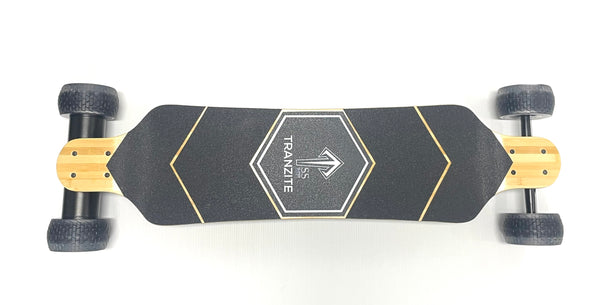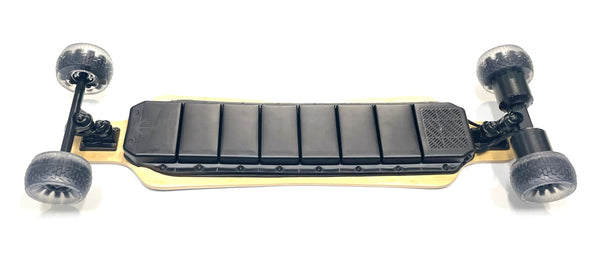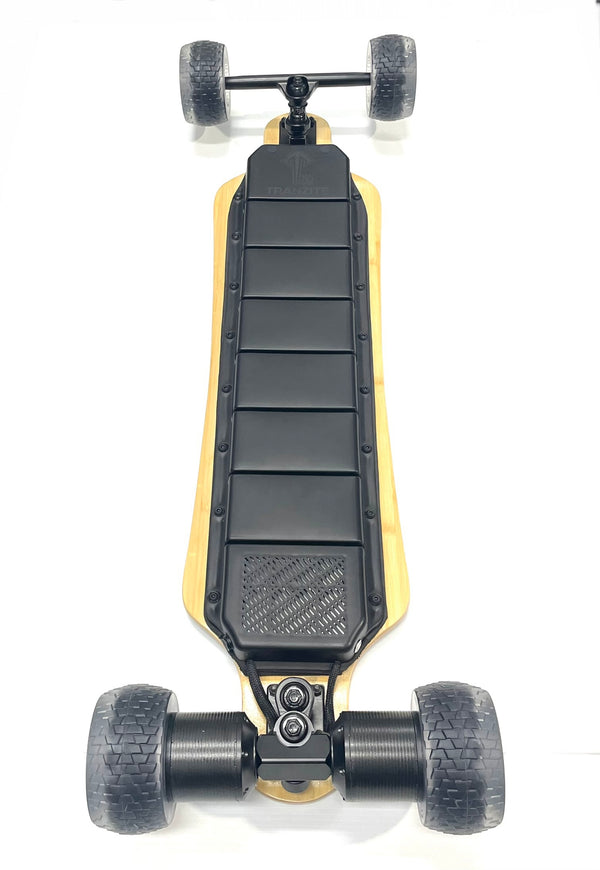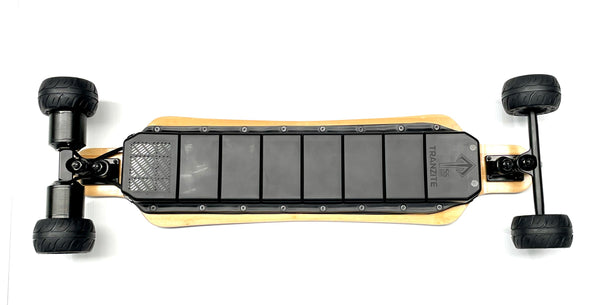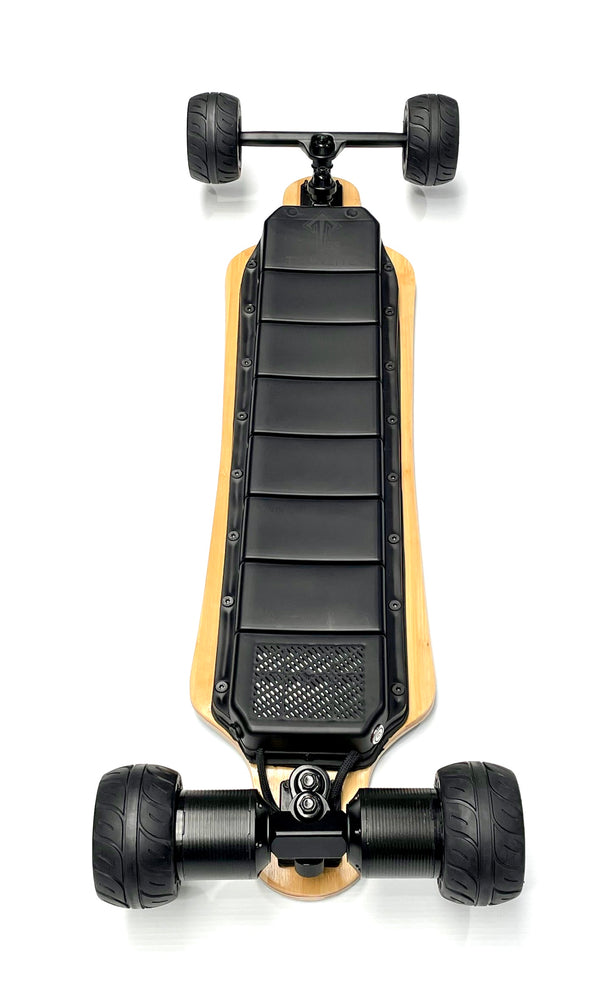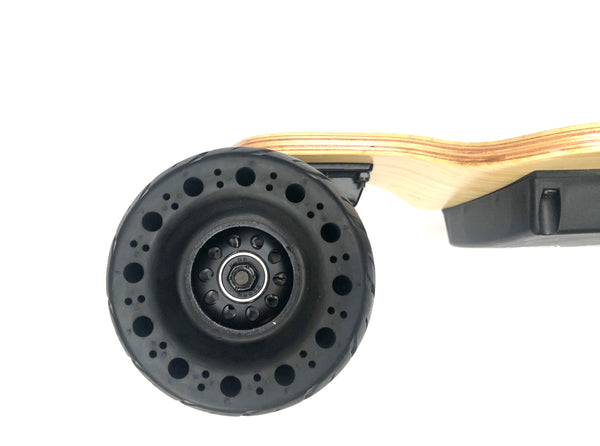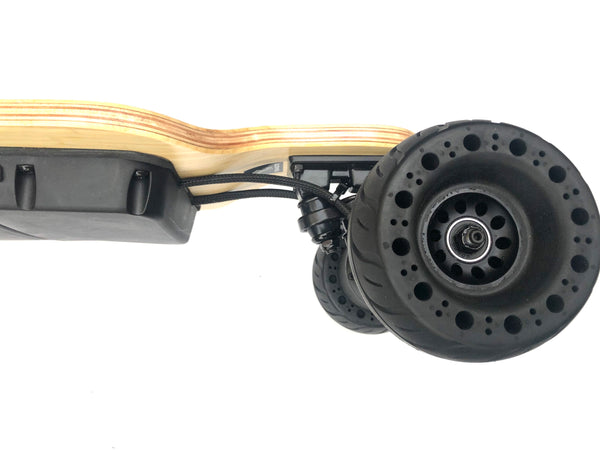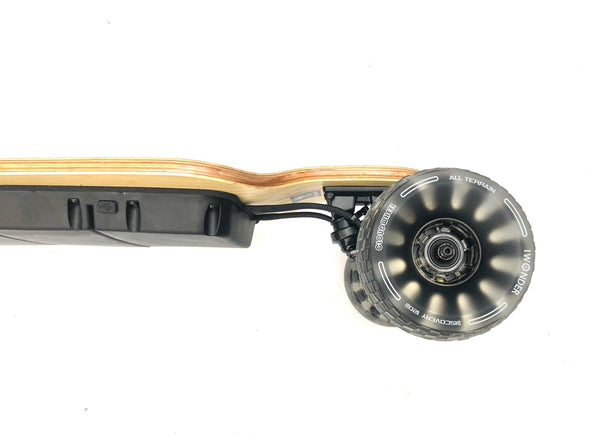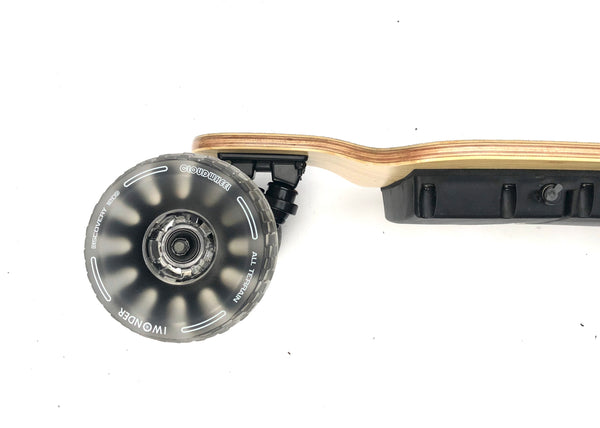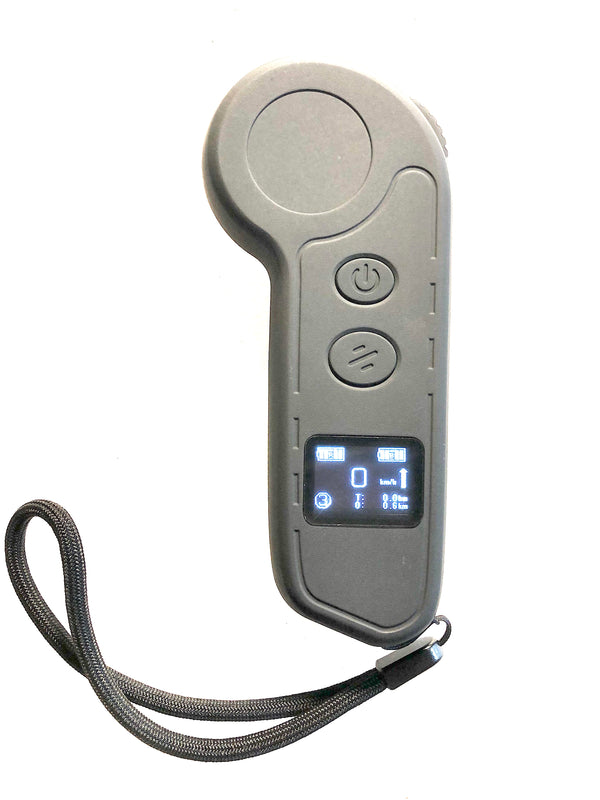 TRANZITE HYBRID DIRECT DRIVE - CLASSIC
- New 2022 Model -
New features:

Upgraded battery (Australian built), 559 Wh, 12S3P, Molicel P42A
Higher acceleration and faster final speed (+50 km/h)
New flex enclosure (protecting better the battery and ESC)
New custom Hobbywing 12S ESC (Electronic Speed Controller) and matching screen remote.
New grip tape design
Australian Made

Designed and fully assembled at our Sydney Head Quarters. All of our boards are built with the highest quality control and the dedication and passion that sets Tranzite apart from other brands.
We offer 12 months factory warranty.
Direct Drive Motors: 
Key Benefits of direct drive:
Ultra smooth and forgiving acceleration and brake, thanks to the free roll of the motors
Powerful 64 KV motors
Super Silent (compared to other motor types like belts and gears)
Low maintenance
Softer ride compared to hub motors, as all 4 complete wheels are used, offering better shock absorption (vs traditional hub motors that use a thinner lawyer of urethane, therefore more vibration on bad roads)
Ability to use different type of wheels: street, cloud, rubber or any other ABEC or KEGEL core. 
Wheels:
This board comes with 2 wheel options: Airless Rubber 115mm (for softer ride) or Cloud Wheels 120mm (for more range). Additional wheels or adapters can be purchased separately.
Trucks:
Hyper smooth carving and riding experience thanks to the double king pin trucks and the custom mid flex bamboo deck.

Board Specs:
Skateboard:

Electric Skateboard

Deck:

Maple / Bamboo - Mid Flex

Top Speed:

+50 kmh

Range:

40km with 120mm Cloud Wheels

25-30km with 115mm Rubber Wheels

Hill Climbing:

Up to 30% Grade

Board Weight:

12 kg

Rider Weight Limit:

120 kg

Trucks:

Double Kingpin

Motors:

Direct Drive 1600W per motor, 64 KV, Torque > 5.5 NM

ESC & Remote:

New 12S Hobbywing custom ESC + Hobbywing Screen Remote

Ride Modes:

3 Speed Modes

Battery :

559 Wh, 13Ah (Molicel P42A 21700 / 12S3P)

Wheels

Rubber 115mm or Cloud 120mm

Charging Time:

3 - 4 Hours
TRANZITE - MOVING PEOPLE

** TRANZFORM YOUR RIDE **
The most comfortable board I have ridden.
I have tried all the other mainstream brands. I am 95kg and 188cm tall. The flex in the deck is springy and great for carving but when I tighten up the double kingpin trucks it is very stable for 40Km/h + cruising. The range is insane. I have achieved over 40 km hard riding with some battery still left.
The rubber airless wheels are the best and softest ride, the cloud wheels give you the best range. But, my favourite are the glow wheels. They give you best surface feedback and most original skate feel while still being soft enough to absorb bumps, cracks and ramp edges and they GLOW wicked 🙂 no batteries needed internal lights are powered by gyroscopic force and the wheels themselves are glow in the dark which leaves an afterglow when you stop. Love the accessories too, motor guards and steeze light mounts in customisable colours. Top the range quality for mid range prices.