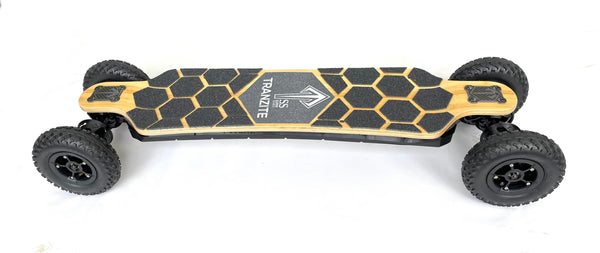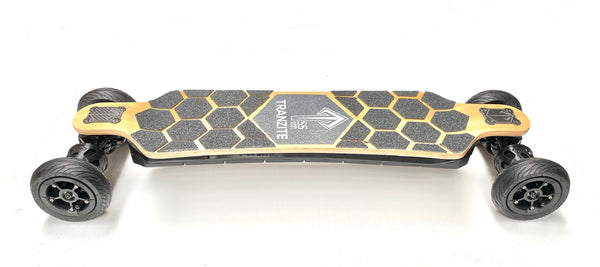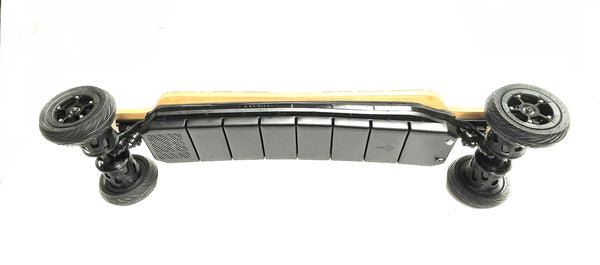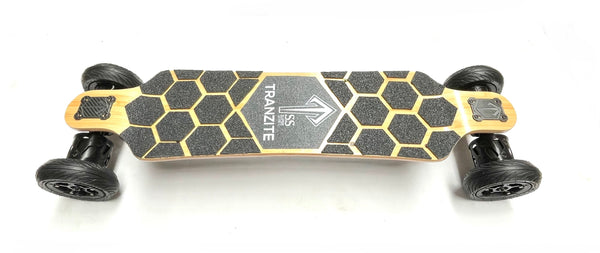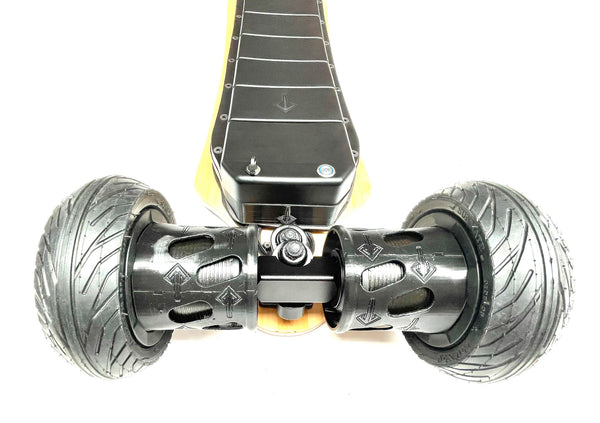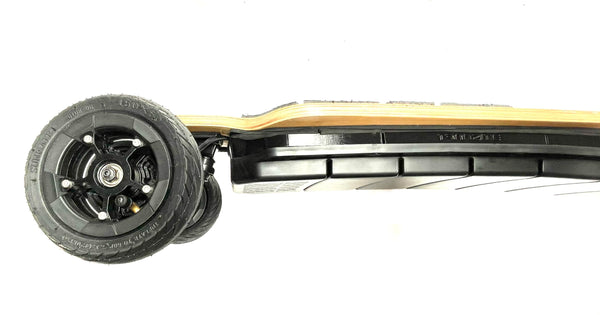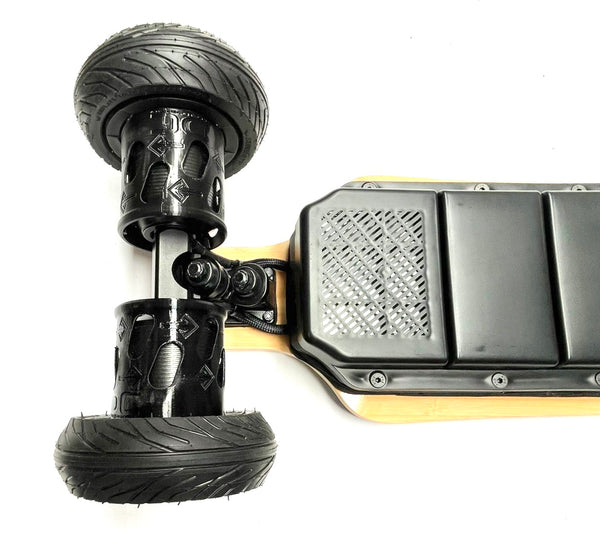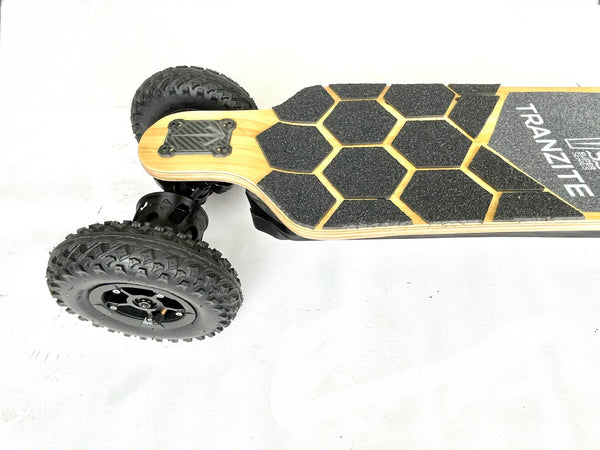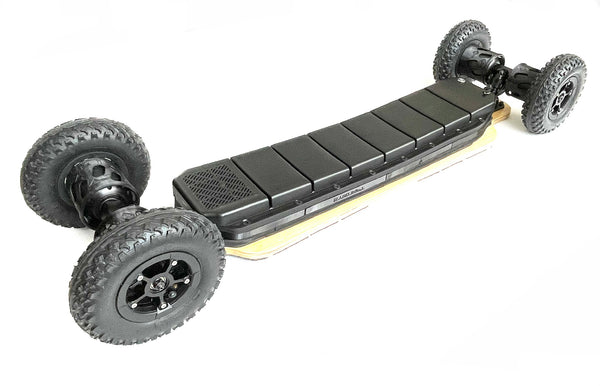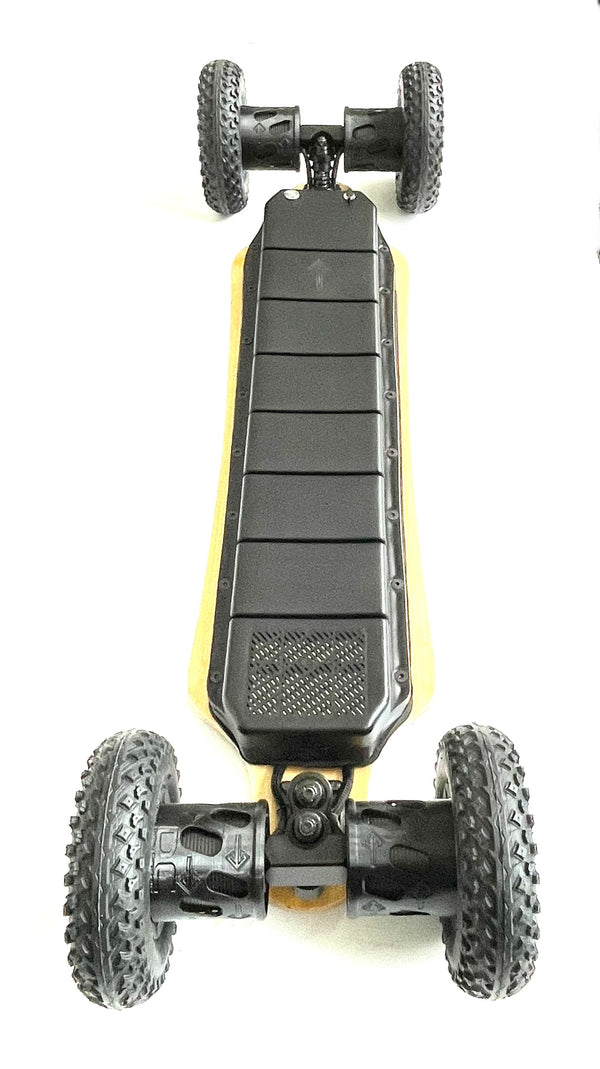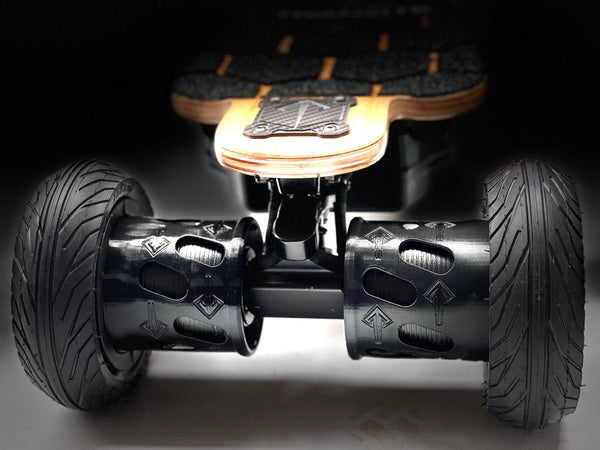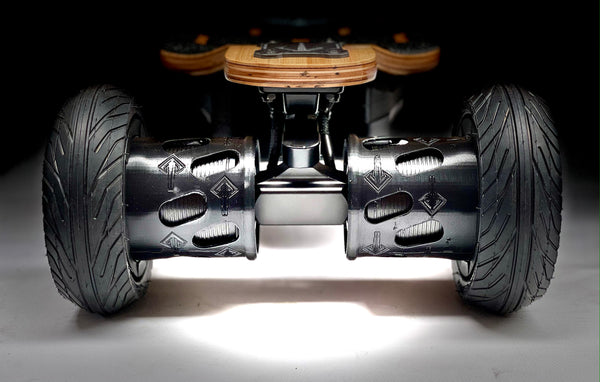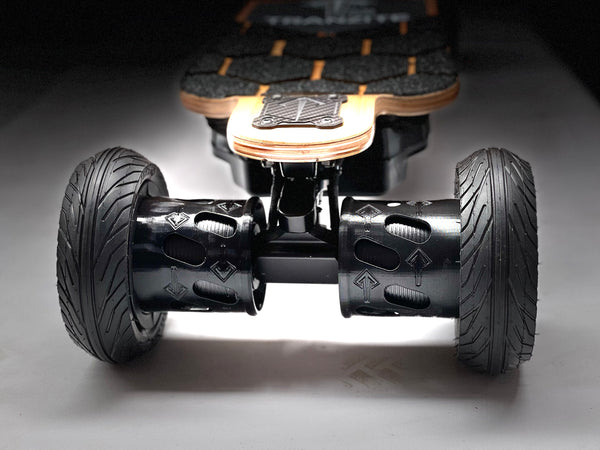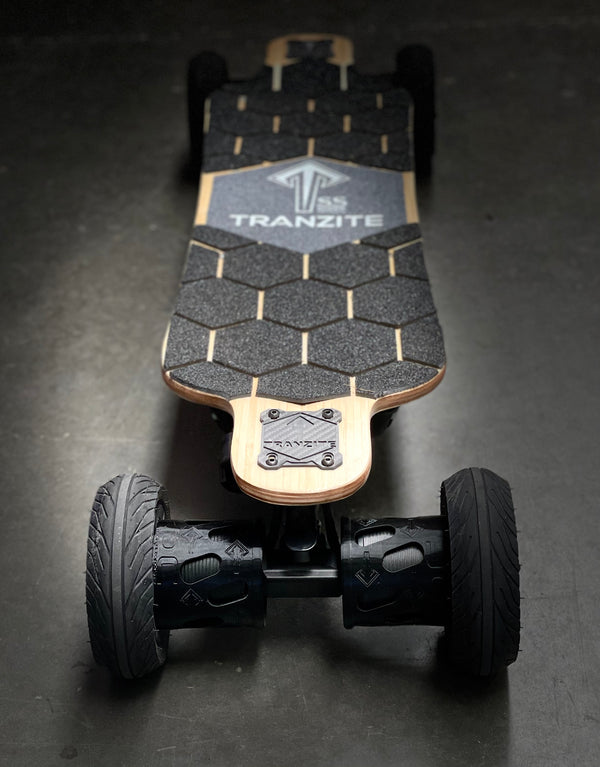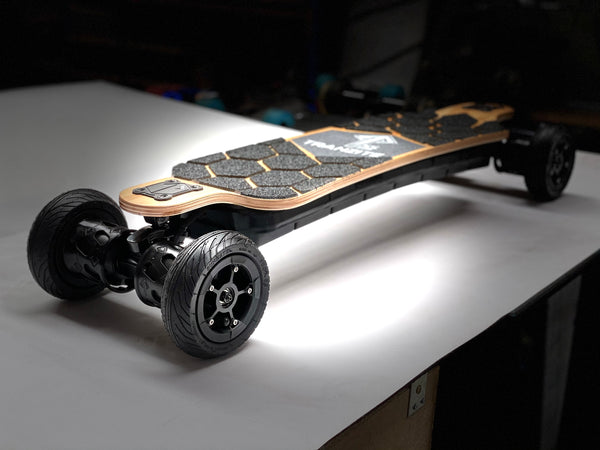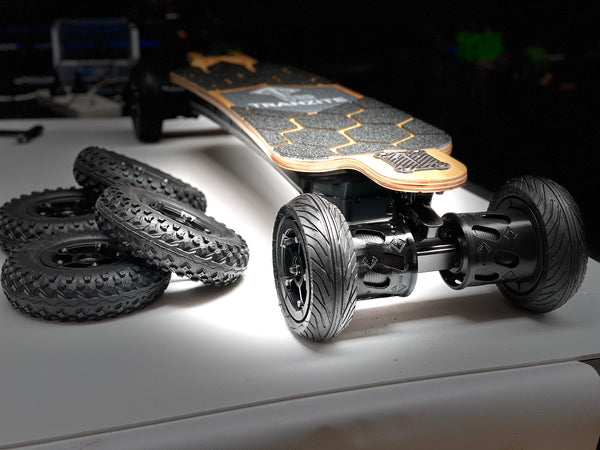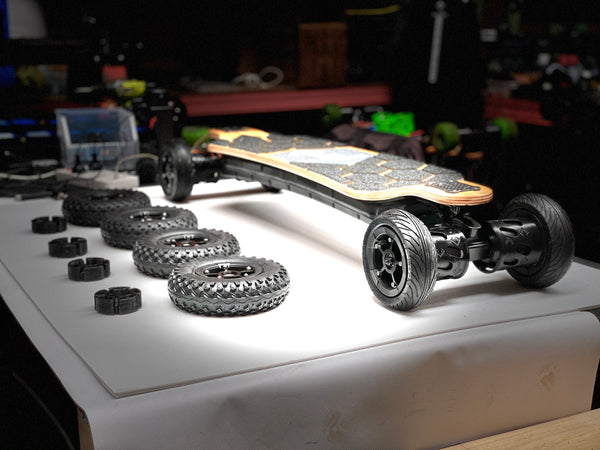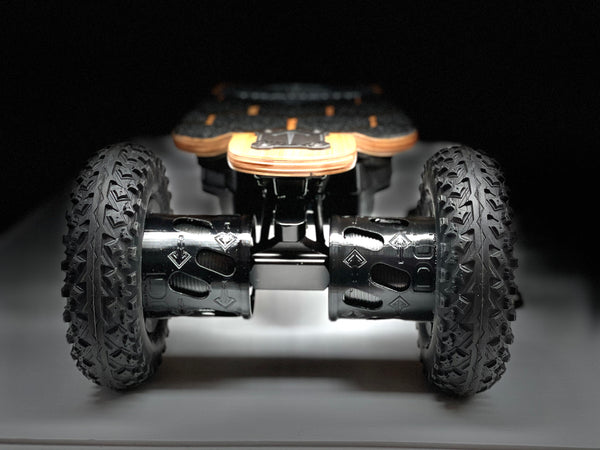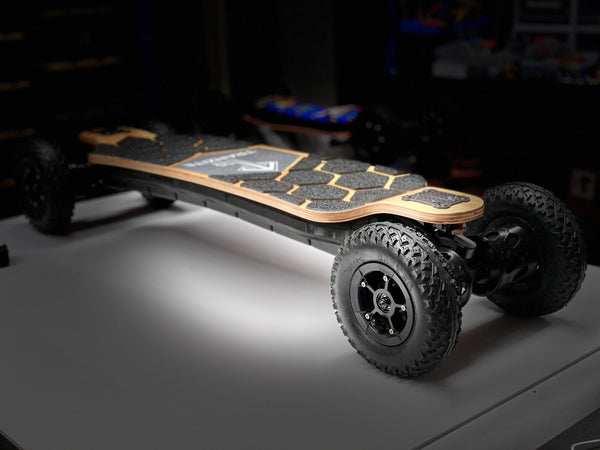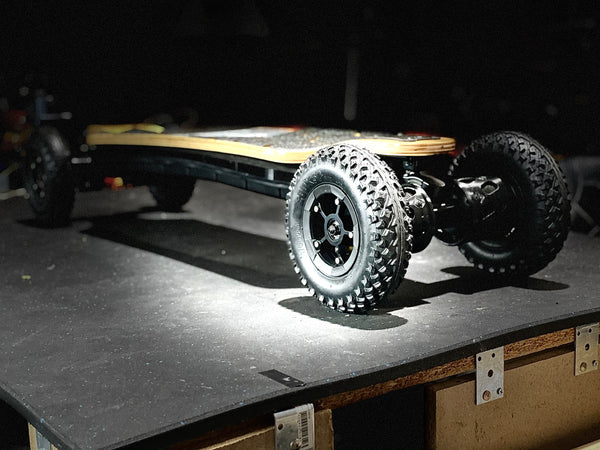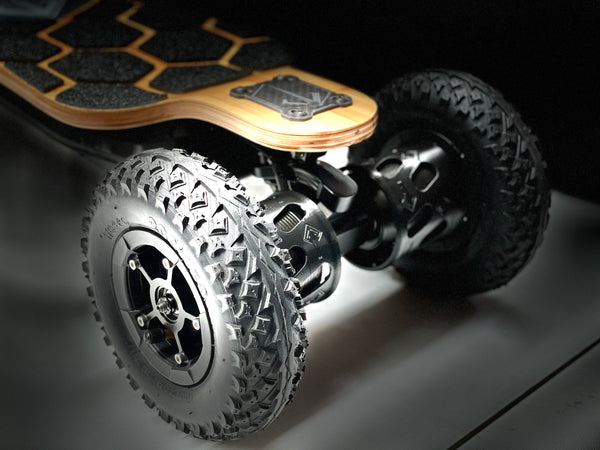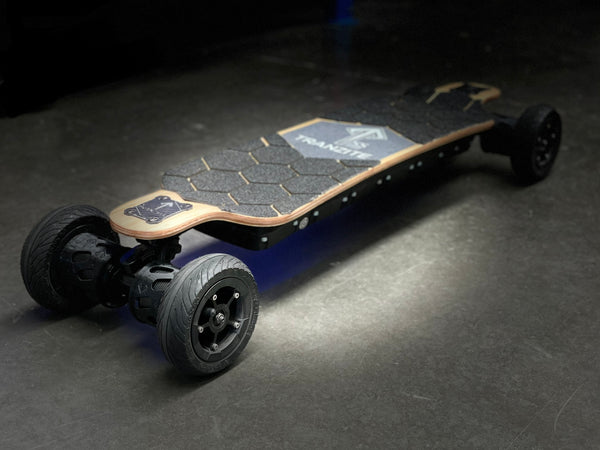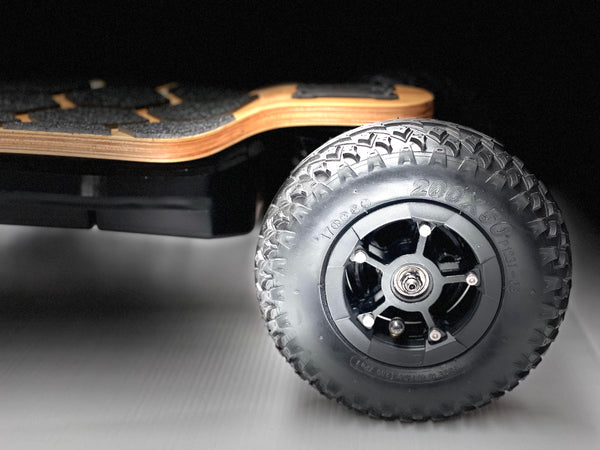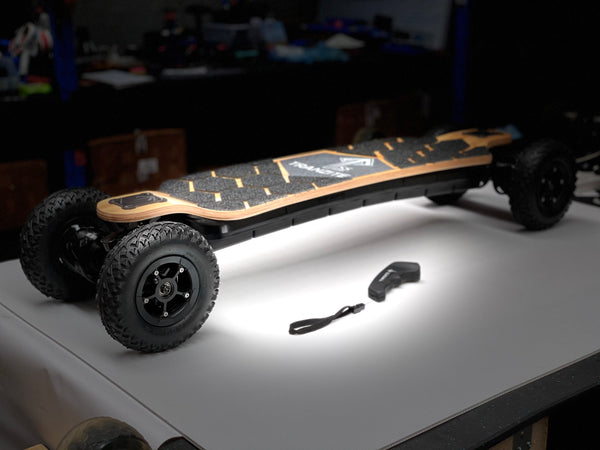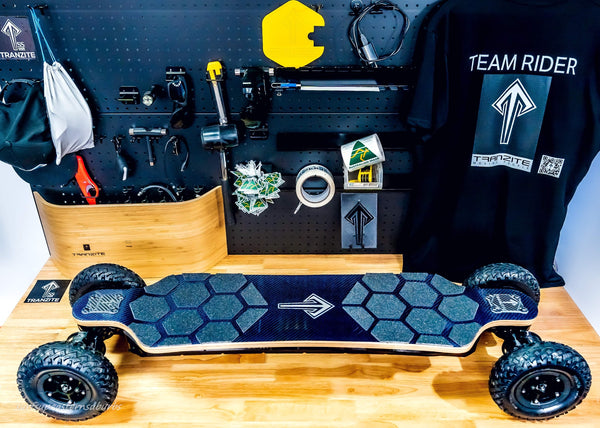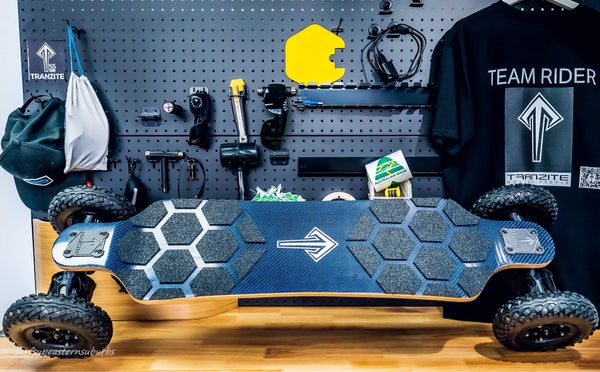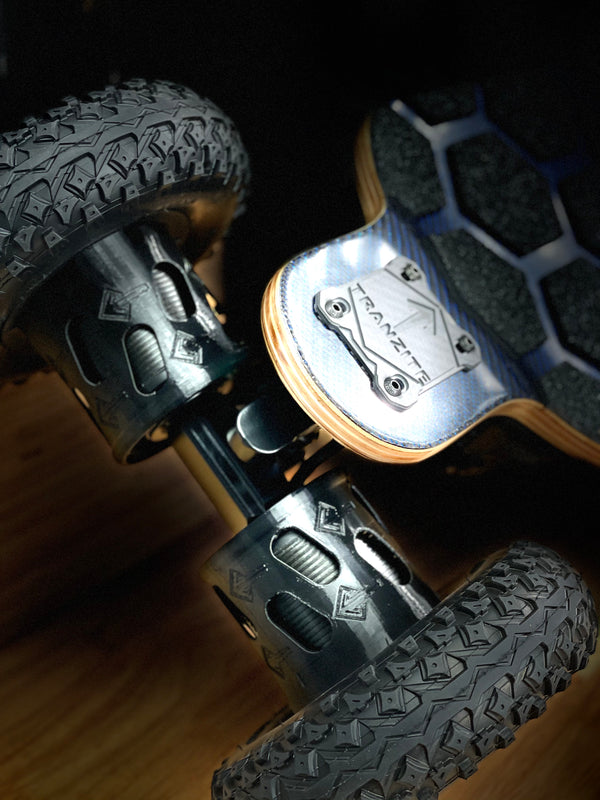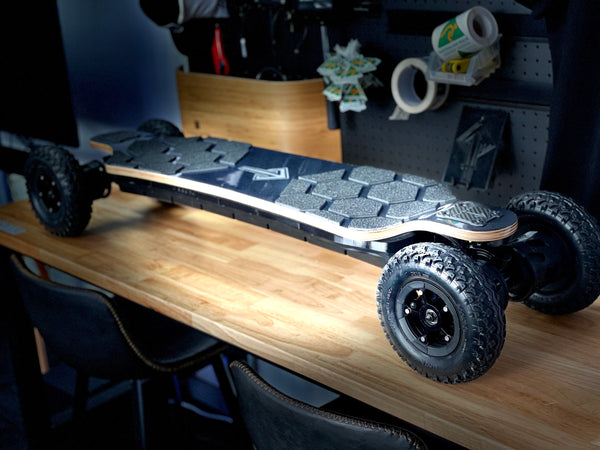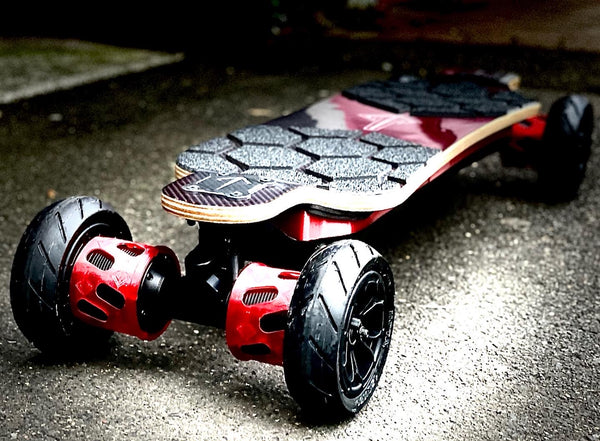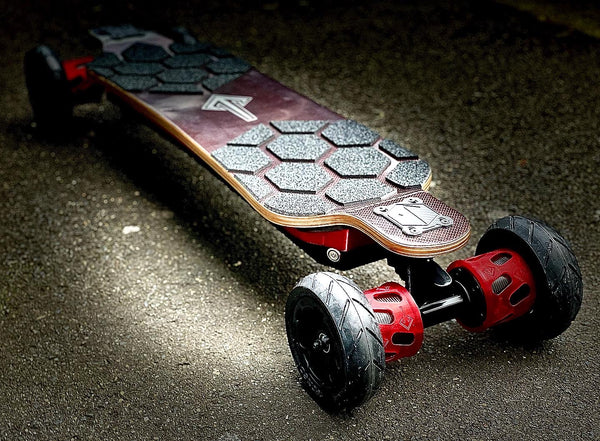 ROADSTER AWD (DIRECT DRIVE - V SEIRES)
The ultimate urban all rounder high performance electric skateboard.
Thrilling acceleration, power and torque. Ultra smooth and quiet, offering a wide range of wheel options. 
We are very proud to bring this board to the market. This board is special and unique, built with premium components and tested thoroughly under real world riding conditions. 

Australian Made. When you buy a Tranzite Roadster you are supporting Australian businesses and local suppliers. 
High level overview and specs:

- Motors: This board has 4 powerful Direct Drive motors (each motor has 1600W, 64 KV)
- Battery: High quality battery Molicel 21700 cells (P42A), battery packs are built in Australia by the best AU battery builders. We offer 2 options:
12s4p (16.8Ah, 725Wh)
12s6p (24Ah, 1090Wh)
If you are thinking of running mostly AT wheels, then the 12s6p is highly recommended.

** range extender boxes 12s4p are available on pre-order.
- Expected Range:
| | | | | |
| --- | --- | --- | --- | --- |
| | AT 200 | AT 150 | Rubber 115 | Cloud 120 |
| 12s4p | 35 km | 40km | 40km | 55km |
| 12s6p | 45km | 50km | 55km | 75km |
* Real life range, standard ride, 85kg rider
- Top Speed: 55km/h+ depending on wheel setup
- Wheels: Fits AT 150mm and AT 200mm (all terrain air wheels), in addition to the traditional 120mm clouds, 115mm rubber and most compatible ABEC and Kegel wheels.
Based on our riding tests, on a scale of 1-5 (being 1 worst and 5 best) these were our indicative findings when using different wheels setup. Each type of wheels have their benefit, it comes down to rider preference:
Torque

Comfort

Range

Final Speed

Overall Score

(0-20)

AT 150 
4.7
4.9
4.6
4.8
19
AT 200
4.5
5
4.4
5
18.9
Rubber 115
5

4.7
4.8
4.6
19
Cloud 120
4.9
4.2
5
4.7
18.8
We found that the AT 150 seems to be the best overall fit for this board, offering a good balance between torque, range, speed and riding comfort. If increased torque is needed then the 115 rubber will provide faster acceleration, the 200 AT more comfy ride (at expense of less torque), or clouds for long range.
But don't be mistaken, any of these wheel options offer a super powerful and thrilling ride!
- FSESC / VESC based ESCE & VX2 Remote: Two double custom FSESC (based on Vesc) / custom parameters for Tranzite and VX2 screen remote.
- Deck: Bamboo / Maple (mid to mid/stiff flex). Deck. Dimensions: Length 98.7cm x 23.7cm (max width / foot area) x 21.6cm (centre). 
We are also releasing a limited edition Carbon Fusion Decks, pls go to Accessories / Carbon Fusion Decks section and check out the available colours.
- Premium Accessories Kit: Include Dope Grip, Carbon Antisink Plates and Motor Covers. Can select them as a kit at checkout.
If you want more information or have any questions about this board please get in touch, through our chat or via email: sales@tranzite.com
===========================================================
TRANZITE ROADSTER AWD & FACTORY VISIT - by Andrew Penman  
https://www.youtube.com/watch?v=WvPS4ibvelg
TRANZITE ROADSTER AWD - CARBON FUSION DECK - RANGE TEST by Craig Taylor
TRANZITE ROADSTER AWD - CARBON FUSION DECK - UNBOX & TEST by Craig Taylor

 TRANZITE ROADSTER AWD - WORLDWIDE RELEASE - FIRST REVIEW by ANDREW PENMAN
https://youtu.be/gYAf1K3ND1M (click link)
TRANZITE ROADSTER AWD - PROTOTYPE - RANGE TEST by Jeepy T

TRANZITE ROADSTER AWD - PROTOTYPE - FIRST IMPRESSIONS by Jeepy T

TRANZITE ROADSTER AWD PROTOTYPE - FIRST RIDE AT200mm & AT 150mm - by Zac Peterson
Amazing, Super powerful, Silent
This board is insanely powerful, like its actually nuts!
The battery is huge over 1KW of juice.
The build quality is top notch, I can't fault it. It's also nice it's Australian made.
My only complaint is that it only goes forward, there is no option to power it backwards.
Communication and service from Eduardo has been impeccable.
Roadster AWD - Sophisticated perfection
"The Roadster Carbon Fusion AWD is an exquisite bespoke design and is a remarkable piece of engineering, it possesses the most enormous amount of torque and power while being precisely administered through two individual very sophisticated Custom Dual VESC 4.2x flipSky Controllers. This is the James Bond of Electric Skateboards it should be re-named Aston Martin, the braking is superb …Hillclimb ability second to none easy to 45% gradient …. with a top speed of 58 km/h the Roadster AWD stands head and shoulders over most competing Eboards, in fact it's in my opinion the best Electric Skateboard in the market right now …particularly in the rudimentary dual rear belt drive space. The AWD wheels cleverly direct drive control into cornering allowing for differential wheel speeds .. this simply gives the most euphoric experience I've ever had ⚡️ and with Tranzite signature 1,600 watt 64kv dead silent big motors provides the most exhilarating performance feel at 6,400w. This is the direction of the future ……this Eboard is from the future ….a rare glimpse into next level design … I can highly recommend the Roadster AWD Carbon Fusion for the advanced and high-performance Pro Riders" - Andrew Penman EBoard Reviews YouTube ⚔️
Living the dream
This blew me away the performance of this impressive ride